Biography
Zoe Snape is a multidisciplined artist, now living and working in West Somerset, UK. She works at her permanent studio at the East Quay art centre directly beside the sea in Watchet, where she is a member of the East Quay Artists group. Zoe is also a Somerset Art Works member. She has a BA (Hons) in Fine Art & Art History from Goldsmiths, University of London, and has exhibited in London, Sheffield and Somerset. Before becoming a full-time artist, Zoe was a specialist in 20th and 21st century photography, with a fifteen-year-long career working in galleries and auction houses such as Christie's, Bloomsbury Auctions and The Photographers' Gallery, London.

Recent Exhibitions
'Sanctuary' Somerset Art Works, Ilminster Arts Centre, 35 East Street, Ilminster, Somerset,
TA19 0AN 1st - 26th November 2022
'Sanctuary' Somerset Art Weeks, East Quay, Somerset, 24th September - 9th October 2022
'Fifty Bees' ACE Arts, Market Place, Somerton, Somerset, TA11 7NB, 9th April -14th May 2022
'Somerset Art Exhibition' National Trust, Fyne Court, Bridgwater, TA5 2EQ. May - June 2021
'Miniatures' Fronteer Gallery, 18 Exchange Street, Sheffield, S2 5TS. 2nd - 16th October 2021
Somerset Art Weeks, East Quay, Somerset TA23 0AQ, 23rd September - 8th October 2021
Practice
She uses paint, ink, collage, photography, and moving images to explore broad subjects with themes in common, and seeks to make art that resonates emotionally with the viewer by asking questions such as:

What is flow?
What is controllable?
What is belonging?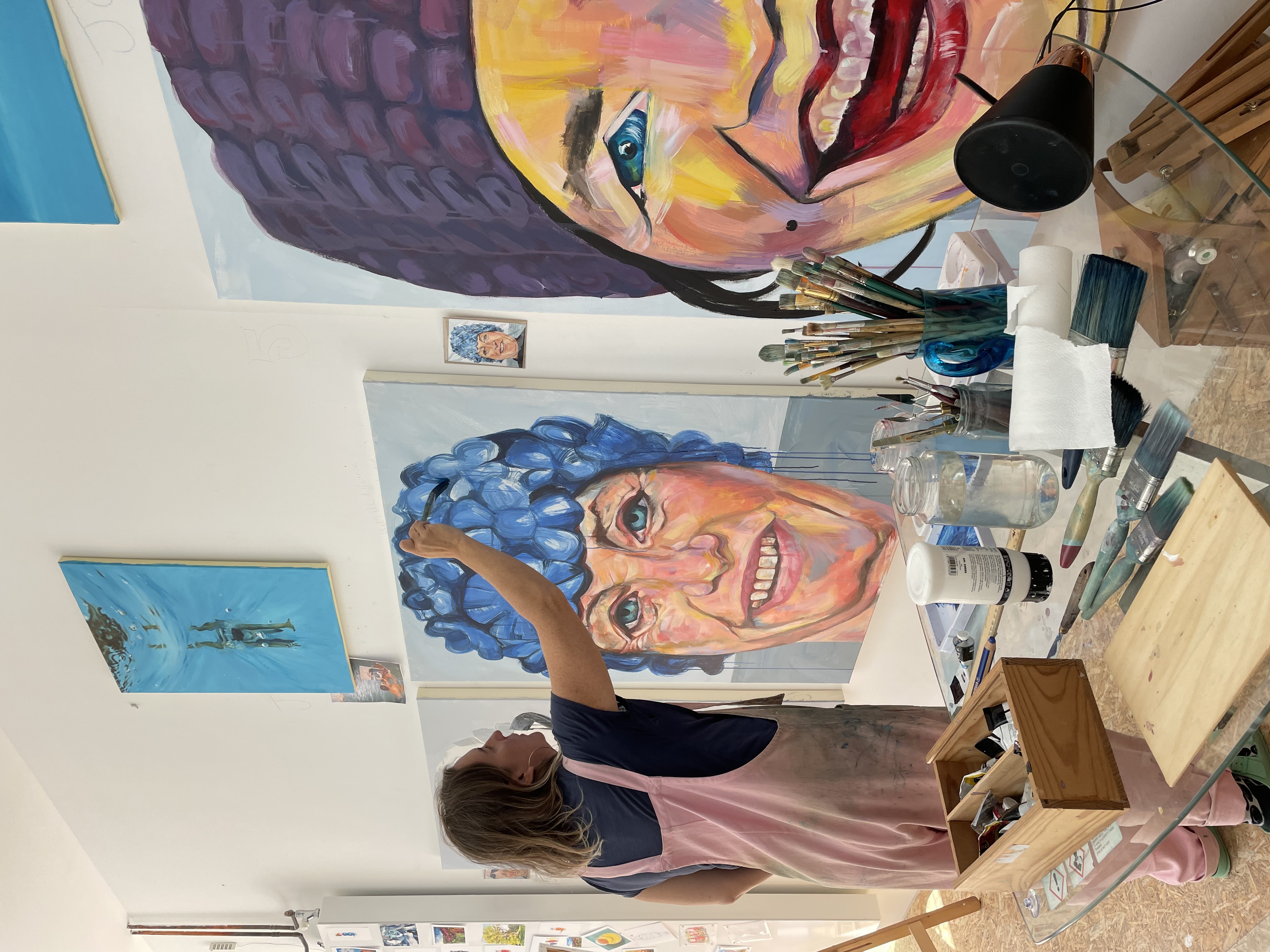 Artist Statement
Transience is the theme of all my art. Water is a recurrent subject in my dreams and artwork, and even when it is not figuratively evident, its flow comes through in the materials I select. One day I may reach for paint or ink, and the next, find myself cutting waves through vintage photographs or postcards. Concerned about Climate Change, particularly raising sea-levels, I'm interested in representing water in all its forms, and the moods that it evokes and feelings it provokes.
It pulses beneath the skin of my portrait sitters. It can gush and overwhelm in my paintings of tumbling torrents of rivers. Sometimes water becomes more enveloping and consuming in more abstract paintings. Other times it is better controlled, to the point of tension and contradiction in carefully spliced photomontages of local seascapes. Videos capture experiments with raindrop races or drips creeping into domestic spaces. Drip drawings literally play with surface tension, expectation, control and accident.
Swimming pools, slides, fabric, flesh and landscapes are all investigated for their watery potential as I try to imbue each subject with a sense of flux and flow.
All my works are for sale and I welcome visitors into my public-facing studio to witness my work in progress.
Studio
Paintings, drawings, prints, collages, greetings cards and postcards are available to purchase directly from her studio and through this website.
Scroll to the bottom of this website to follow Zoe on social media and view her performance and video work.
Zoe is happy to take on
commissions
, arrange
framing
and free postage within the UK through her
contact
page.
She also runs practical and therapeutic art workshops for adults and children from her studio. Please
contact
her for class timetables.
All artwork on this website and social media is subject to
ⓒ Zoe Snape 2022